Between the end of February and the beginning of March, the eradication of alien trout and subsequent sowing of 8,000 eggs and newly hatched larvae of native Mediterranean trout took place in the upper section of the Lorda stream near the Municipality of Castelpizzuto. The Municipality of Castelpizzuto has decided to actively support our project, aware of the importance of enhancing the water and natural heritage that is included within its administrative boundaries. In the past years, fry of Samo trutta had been introduced on several occasions – as in all of Italy, which gradually replaced the pre-existing population: despite the splendid watercourse being suitable for the life of salmonids, in it only a small nucleus of Atlantic trout survived.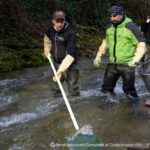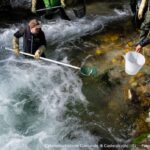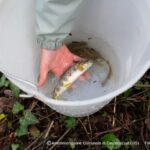 In fact, only a few adult individuals and a handful of small fry of natural reproduction, all allochthonous, have been caught in 2 km of the river. These trout have been moved to areas further downstream, isolated by insurmountable bridles.
The native trout of the Volturno basin are gaining new space and are taking possession of new territories. All this thanks to the efforts of the LIFE Nat.Sal.Mo. staff, but also thanks to the interest and commitment of the most sensitive local administrations and associations. In these days at the end of March we are building nests in the areas managed by those fishermen's associations that have long cared for the fate of the Volturno river and its native trout.